Empowering Every Golden Moment – A Marketplace Tailored for Seniors and Specials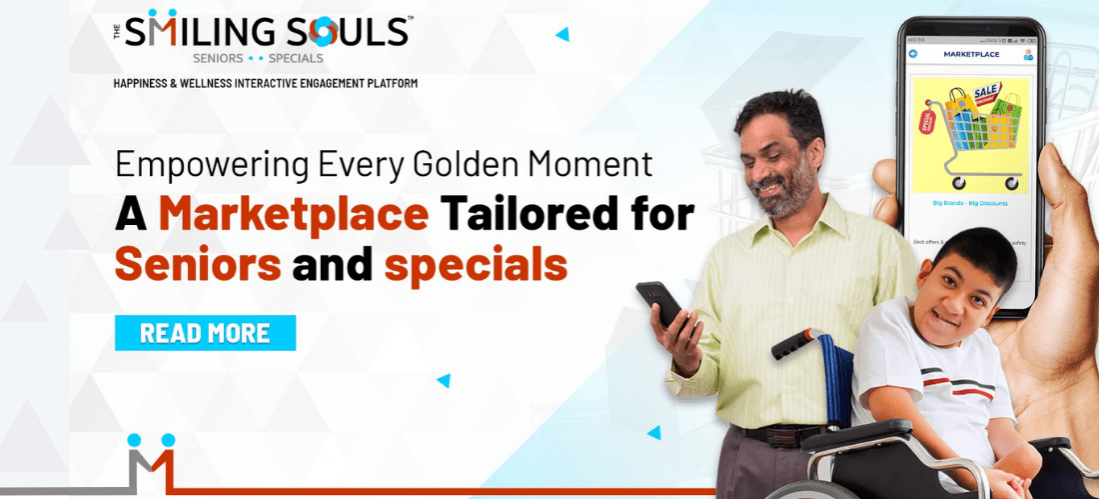 In an age driven by instant gratification and digital transactions, accessibility has become more than just a convenience; it's a necessity. But are we ensuring that all demographics, including seniors and specials, experience this seamless access? Enter The Smiling Souls – a platform dedicated to bridging this gap, ensuring our respected elders and those with special needs are not left behind.
Understanding the Needs
Seniors and specials often navigate a world not tailored to their unique needs. From products that don't cater to their requirements to services that don't understand their challenges, the mainstream market often overlooks this demographic. 
Our closeness to our community gives us a firsthand understanding of seniors and special hurdles. Engaging with our members, we've gleaned insights about their challenges, ensuring our platform addresses them at the grassroots level. Some of the distinct difficulties our community frequently encounters are:
Limited Customization: Many products in the mainstream market are one-size-fits-all, overlooking the specific needs seniors and specials might have.

Technological Barriers: Many modern digital platforms must be more intuitive for seniors or those with special needs, creating a barrier to accessing essential products and services.

Lack of Representation: More representation in marketing and branding must be done, making it challenging for this demographic to relate to or trust products and services.

Safety Concerns: Seniors, in particular, often express concerns about online safety, fraud, and the trustworthiness of online platforms.
There's a palpable gap, and it's time we address it.
The Smiling Souls' Marketplace: A Unique Solution
Our marketplace isn't just another e-commerce platform. It's a carefully curated space designed with the primary aim of catering to seniors and specials. We understand that it's not enough to offer products and services merely; providing the right ones is crucial.
Hence, every product every service listed here, speaks directly to the needs and preferences of our cherished community members. Here's a glimpse into our specialized marketplace sections:
Big Brands–Big Discounts: Seniors and specials deserve the best without burning holes in their pockets. This section is a testament to our partnerships with top-tier brands, offering exclusive deals tailored specifically for our community members.

Care & Support Services: Recognizing the importance of holistic well-being, we've dedicated a segment to services that enhance life quality. Be it home care, assisted living, or specialized medical services, we ensure our community members get the best, personalized for their unique needs.

Local to Global Brands: Small businesses and local ventures often offer products and services with a personal touch. We amplify their reach, giving them a platform to showcase their offerings while also ensuring our community gets access to diverse and unique products.
Every corner of our marketplace reiterates our commitment to making every senior and special individual's life easier, richer, and more fulfilling.
What Sets the Marketplace Apart?
Direct Accessibility: We eliminate barriers, ensuring that our members don't have to navigate the convoluted lanes of the internet to find what they need.

Tailored Offerings: Our product listings aren't generic. They're tailored, ensuring that every product or service resonates with the specific requirements of our audience.

Safety & Trust: Online security is paramount, especially for our seniors. We guarantee a secure shopping environment, allowing our members to transact confidently.
For brands, this isn't just a marketplace; it's an opportunity. An opportunity to connect, understand, and serve a dedicated community. By aligning with The Smiling Souls, brands aren't just expanding their customer base but making a genuine, impactful difference.
Accessibility isn't a privilege; it's a right. As we strive in this digital age, let's ensure our seniors and specials aren't passive observers. They deserve to be active participants. We urge more brands to join us in this journey and for our vibrant community to keep supporting and sharing the benefits of our marketplace.
Interested? Want to know more? Find us at https://thesmilingsouls.com/tssmarketplace/